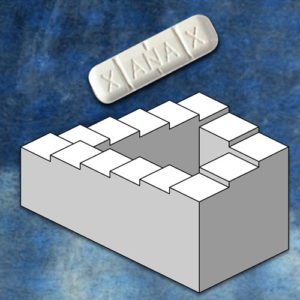 I awoke from a dream: The whole world, everyone, is using Xanax or a related benzodiazepine (such as Klonopin, Valium, Ativan, Restoril, Librium, Tranxene, Serax, and others). Some are also using a related sleep medication which affects some of the same GABA receptors (Ambien, Lunesta, Sonata). Are we physicians making the same mistakes we made when we prescribed opioids for pain?
Back in the 1980s and 1990s we were told that we were undertreating pain and not using enough opioids and that people were suffering needlessly. Surveyors from The Joint Commission would ask hospitalized patients: "Are you in Pain? Have you told anyone?" I witnessed this, and heard hospital administrators, who did not want to lose Accreditation, ask physicians to be sure they were recognizing and "treating pain", which meant, in practical terms, prescribing opioid medications. The current opioid epidemic has many causes, including prescribing by us physicians, but the primary issue is that the human brain has a reward response (with positive emotions) to substances such as alcohol, opiates, benzodiazepines, barbiturates, and other sedative hypnotics.
[To be briefly pedantic: "hypnotic" means sleep inducing; "opiate" means derived from natural plant/poppy source; "opioid" means is similar to opiate but created in laboratory. Opiate and opioid are now being used interchangeably].
We now are much more aware of the dangers of Xanax (and other benzodiazepines=BZDs). Drs. Heather Ashton and Malcolm Lader have been among the world's leading experts on risks and treatment of BZD use disorders. See http://www.psychmedaware.org/HistoryBenzodiazepines.html for a brief overview of Dr. Ashton's work.
One immediate problem is that overdose deaths from opioids are frequently associated with BZDs, commonly Xanax. This is because each additional drug (or alcohol) decreases the brain's automatic breathing mechanism, and you may fall asleep and stop breathing and never wake up. Those people who use alcohol or pain medication seem particularly likely to also use BZDs. I have talked to many about this and apparently opioid users experience a great deal of anxiety and panic and count on BZDs to help them through. The result is addiction to both substances.
Surprisingly, some people find it more frightening and daunting to reduce (or withdraw from) their Xanax than from their heroin or oxycodone. Addiction programs sometimes focus on the opioid detoxification and forget about the BZD problem, so after discharge these patients show up in outpatient programs or physicians' offices with severe anxiety, in Xanax withdrawal. The Georgia Department of Public Health prescription drug monitoring program (GA PMP Aware) is helping by notifying us when our patients are prescribed both a benzodiazepine and an opioid (by one doctor- ourselves- or several doctors).
But reducing or withdrawing from BZDs can take many months or even years, and there is no real substitute or alternative drug available. Dealing with opioid use is much easier since we have MAT (Medication Assisted Treatment) available for opioids, namely buprenorphine/Suboxone/Sublocade, etc. which can be prescribed over a long term. For some people, long term use of BZDs, although not desirable, is the only immediate option: psychotherapy, motivational therapy, stages of change therapy, and substitution therapy (Ashton's diazepam protocol) are good strategies but require trained specialists over a long time period. Just not prescribing Xanax or Klonopin or Ativan or Ambien, etc. is one way to proceed (as some hospital inpatient programs approach this issue), but you then have an addicted patient who will find some other way of obtaining the BZD to deal with uncontrollable or life threatening withdrawal which may start a few days after discharge. These are not necessarily relapses, but rather the continuing addiction itself.
It's easy to get started using a BZD: a friend or relative will say "try this; it's helped me" when you are unhappy or grieving or anxious about a wedding or an encounter or a test or say you can't sleep. Xanax works so well and so quickly. Then the next stage: "I only use it when I can't sleep". "It's just like having a beer when I get off work". "I start my day with a little Xanax to get me to the office." Patients will then ask their doctor to prescribe the medication, and react negatively if refused. It does seem appropriate sometimes to prescribe something short term for an urgent situation. But some brains can tolerate brief use (or even long term use) without escalating. Other brains attach to the pill with intense liking and intense pleasurable memory.
The most overlooked issue is that Xanax produces a loss of memory, a dissociation, an interruption in decision making. We feel good because we are taking a forced break from functioning or producing. This pleasing time out can be associated with:
Impaired driving
Micro-amnesia
Risk of long term neural circuit dysfunction
Failure to problem solve
And we can be totally unaware of what is happening. If you are genetically lucky, you may get away with taking benzodiazepines. But if you have an alcohol or drug problem, you already know about luck. The good news is that although all illness is based on genes interacting with the environment (GxE) , all cures and successful treatments are also GxE.