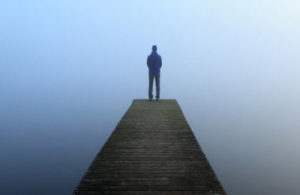 Loneliness has been defined for treatment and diagnostic purposes as comprising a persistent sense of lack of companionship, of feeling left out, and of isolation. This condition of loneliness has been linked to the accumulation of the substance amyloid in the brains of people who are at risk for Alzheimer's Disease.(JAMA Psychiatry,2016;73(12):1230-1237). Together with mild memory loss, we may have some possibility of early identification of people who may benefit from prevention or treatment.
Keep in mind the term "persistent" because we don't want to diagnose every person who feels lonely. Like depression (sadness) and anxiety (apprehension), being lonely is an important emotional signal (part of the human condition) indicating possible action to be taken, such as dealing with loss, threat, or lack of social support.
We really need to distinguish, for example, the above depression from the Depression which merits psychiatric treatment and is defined as not only persistent sadness (depressed mood) but also having loss of capacity for pleasure, as well as evidence of disturbances of sleep, appetite, energy/movement, self harm thoughts, etc. Depression in this clinical sense has been associated with inflammation: disturbances of the immune system, including activation of chemical defenses (cytokines). Inflammation is notably being recognized as a feature of many severe psychiatric conditions including mania, schizophrenia, addiction.
News stories regularly feature new discoveries in brain science, such as links to brain chemistry, genetics, diet, trauma, social environment. Each of these findings may have some pertinence. But keep in mind the term "heterogeneity": there are no single cause pathways to developing mental illness. And there is no chemical, genetic, or environmental finding that distinguishes those who are ill from those who are normal. We all overlap. Read each new discovery or surprise as a pin that you are placing in a very large map, where you are just beginning to see various clusters in various locations.