The writer and the reader have "engaged in an act of telepathy", says Stephen King in his book On Writing. If you think of it like this, it does feel like a special privilege to read and thereby be granted access to another person's mind. The writer is sharing his or her inner self with me, the reader. There is a Connect between the author's brain and mine. It can occur though we are separated by great distances or hundreds of years.
It seems generous as well as mysterious, and highly rewarding, to have another mind to interact with. You can easily extend this concept to all kinds of communications between people, written and spoken, although the effort to produce a lengthy written text like a book makes it more remarkable. The experience of a long relationship, friendship or professional, also partakes of this telepathy concept.
But is there a way to explain the writer/reader connection?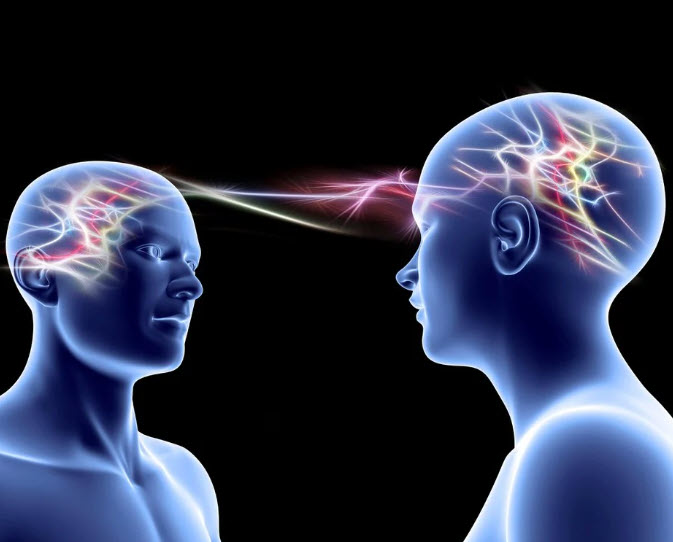 The subtitle to On Writing is "A Memoir of the Craft". King, the horror master, is a guide to the professional side of writing: "If you can take it seriously, we can do business. If you can't or won't, it's time for you to close the book and do something else." We learn of his pains and mistakes, his writing schedule, his take on language and grammar (he hates adverbs), his almost fatal injury, and his beliefs.
But what about telepathy? King is partly serious and partly naughty in his phrasing. My take is that telepathy is an entertaining concept, a fun thing like fantasy baseball or Minecraft. Telepathy relates historically to ESP, Psi, mind reading and other thought transfer concepts. Most people who believe in telepathy are not believers in the sense that they will rely on telepathy instead of e-mail or the telephone. They won't be angry if you don't respond to the thoughts they send your way.
Beliefs are complex and come in many flavors and sizes. They vary in strength, they can change with new happenings or new facts. Some may be central and necessary and must be acted on while other beliefs have lesser amounts of that reality quality. Some beliefs are part of belonging to a group or team; others are temporary ways of enjoying a story or a play. Take a step back and see if you can categorize your beliefs in different files, and see if this helps solve arguments or make decisions.
For me, the writer's telepathy is more of a metaphor- an intuitive way of describing how my brain connectome is activated by words sent by someone else's connectome. Billions and billions of synapses doing their thing, but no magic.
– Dr. Ross Grumet